How Can We Help?
Search for answers or browse our knowledge base.
Object Locating and Scaling
the function can accurately position the location and set the size of object.
---
Select the objects, you canset its size and position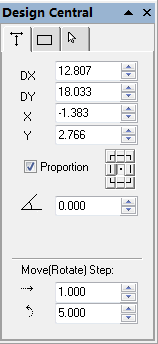 DX   Width of the object
DY     Height of the object
X coordinate
Y coordinate
Proportion
Scaling
Base Point
The angle of  object with x axis.
Step distance: Move the object by arrow keys.
Step angle: Anti-clockwise rotation by pressing "Ctrl + ←" key;  clockwise rotation by pressing "Ctrl + →" key.
Especially, Ucancam supports built-in mathematical operation in float field of all dialog.
Eg: you want to scale the object non-uniformly. You can key in width( 100*2 ) ,height ( 100*3 ), then pressing Enter, the object size will be changed to 200*300.
---
If the selection contain 3D objects:in 3D view,you can pick the different the selection box plane to switch  the selection handle  on XY, XZ, YZ plane, realize to move, scale, rotate in XY, XZ, YZ plane.