How Can We Help?
Search for answers or browse our knowledge base.
Link
To link several curves (two or above) with lines.
---
Command:

        Menu【Modify > Link】            Modification Bar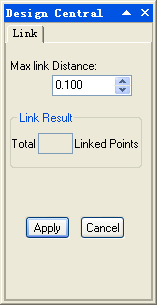 Steps:
1.Select all the objects
2.ClickMenu【Modify > Link】.
3.Type a value in Max Close Distance.
4.Click Apply button.
Note: If the distance between two end points exceeds Max Close Distance, then the two points will not be linked.