How Can We Help?
Search for answers or browse our knowledge base.
Fillet Surface
       Creates a tangent surface between two surface edges with constant radius profile, trims the original surfaces, and joins the fillet surface to them.
---
Command:
Menu【Surface > Fillet Surface】   
---
Steps:
1 ClickMenu【Surface > Fillet Surface】.
2 Set the fillet radius.
3 Select the first surface.
4 Select the second surface.
---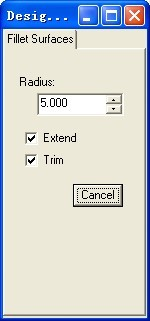 Parameters:

Extend: extends the fillet surface to surface edges
Trim: trim the original surface back to the fillet edges.