How Can We Help?
Search for answers or browse our knowledge base.
Expand
To offset an object both inward and outward at the same time.
---
Command:

 Menu【Modify > Expand】                     Modification Bar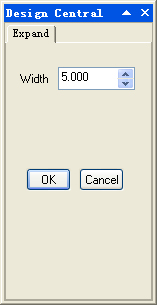 Steps:
1 Select an object.
2 ClickMenu【Modify > Expand】.
3 Type the width.
4.Click OK button.
Width:black's is original graphic, as figure shown.