How Can We Help?
Search for answers or browse our knowledge base.
Ellipse
 Creates an ellipse.
---
Command:
Menu【Draw >Ellipse】      Curve Bar
             Shortcut: E    
---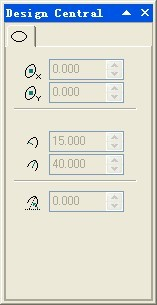 Steps:
1.Pick the center of ellipse.
2.Pick the first axis on ellipse.
3.Type the length of other axis on ellipse.
 Notes: Press Ctrl + Z, remove the last point or curve segment drawn.
Press C, colse the polyline.