How Can We Help?
Search for answers or browse our knowledge base.
Combine Curve
Creates a series of connected  lines ,arcs and/or beziers in string mode.
---
Command:
Menu【Draw > Combine Curve】    Curve Bar  Shortcut: U             
---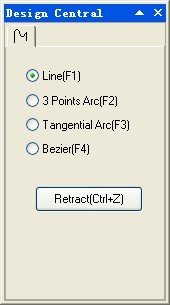 Steps:
1.Select type.
2.Click the right button of mouse  to end the drawing.(if the last segment is bezier,finish the current bezier,and restart a new bezier).
Notes:
Press Ctrl + Z, remove the last point or curve segment  drawn.
 Press C, colse the polyline.
  Line:F1,  3 Point Arc:F2, Tangential Arc:F3, Bezier:F4.