How Can We Help?
Search for answers or browse our knowledge base.
Chamfer Surface
  Places a ruled surface as a bevel between two surface
edges.
---
Command:
Menu【Surface > Chamfer Surface】   
---
Steps:
1 Click Menu【Surface > Chamfer Surface】.
2 Set the distance1 and distance2.
3 Select the first surface
4 Select the second surface.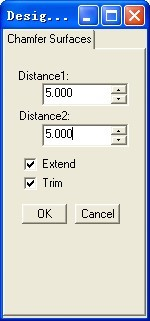 Parameters:
Distance: The distance from the intersection of the surfaces to the edge of the chamfer.
Extend: Extends the chamfer surface as far as it can along surface.
Trim: Trims the original surfaces back to their intersections with the chamfer surface.